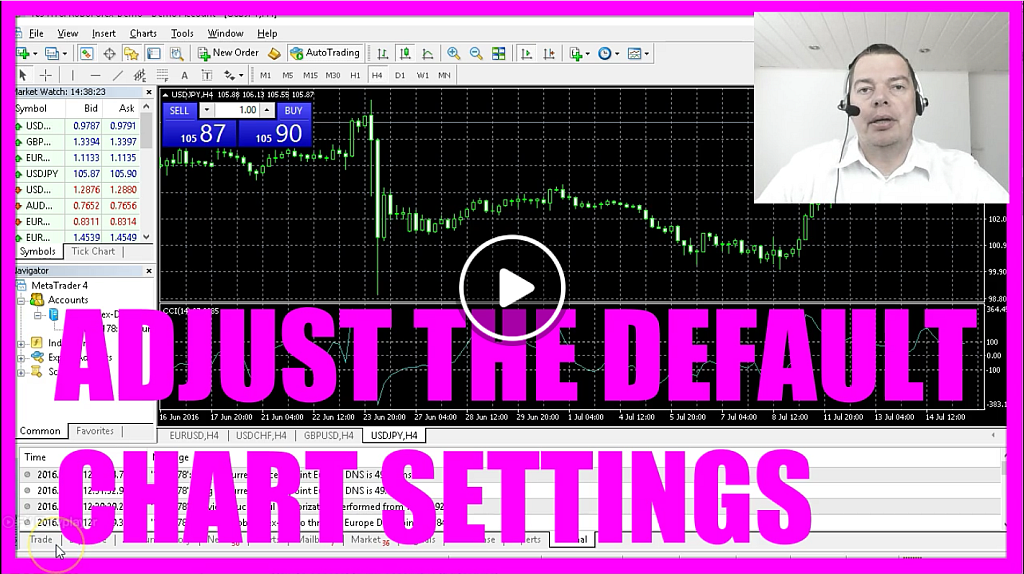 To be honest I don't look on charts very often, and automated trading. I do it maybe once a week to see if my system is still running as expected. You can adjust your charts settings as you like but I prefer a very simple version to save some computer power because my automated systems trade 24/7 and up to twenty two currency pairs and I use Netbooks for most of my systems. So let's see what we can set up here.
By default MetaTrader will show this sell and buy widget in the left upper corner you can simply disable it by clicking on the little arrow here. It is possible to have one or more indicators on your chart but we won't need that because we are not making trading decisions based on optical changes in an indicator. So we will delete the indicator window by right clicking on the chart and selecting delete indicator window. No I would like to disable the grid view and I do it by right clicking on the chart and selecting this entry or hitting control and G and you see the grid is gone. These kind of chart view is called the candle chart because you can see the candlesticks, you can change the candle view to the bar view with this button over here and I prefer line charts. Choose the one you like with one of these three buttons and adjust the time frame to one minute for Automated Trading. That's about it, by right clicking on the charts and selecting properties or hitting F8 you could now adjust the colours to fit your needs.
Okay now my chart looks like I like it and I'm going to save it as a template. This is done by right clicking on it, selecting template, safe template. Here comes a little trick you can name your template like you want but if you want it to come up every time you restart the MetaTrader or you open a new chart you should name it "default" because MetaTrader will always load the template that is called default.tpl when you start it. This will ensure that this chart comes up in the back testing module we will use later on. Okay well done your MetaTrader 4 now is ready to trade.
In the next video we are going to Import an Expert Advisor that is already pre-coded for you.