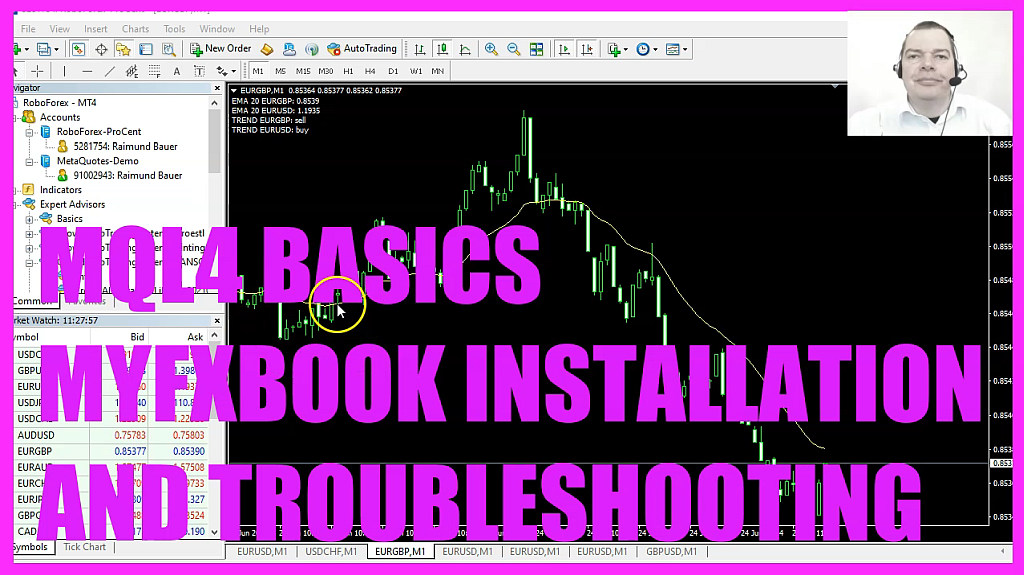 In this video we are going to install the Expert Advisor for MyFxBook. That is a statistics website. So let's find out how to do that with MetaTrader 4. If you go to Google and type in MyFxBook, you will find this website. It provides statistics.
I already have an account, so I can sign in with Google. Here. I have my so called portfolio, a lot of systems and now I can open one of my systems and see all the statistical data. This is very helpful. So let's install the MyFxBook Expert Advisor on our device.
Here is the link. You could also do a Google search. So let's click on the link. The EA installer is downloaded. I will now double click it. In my case it comes up right away.
Usually it will need some additional files. I have done this installation process for MQL5 a few minutes ago. This is for MQL4 and MetaTrader 4. Both files require the DotNet framework from Microsoft to be installed. This would take a few additional steps, but as I did it before, it isn't required anymore.
So I can now pick one of my installation directories. In this case I will pick the Metatrader4 installation. You can run MetaTrader 4  and MetaTrader 5 on the same computer.
This is the right entry. So let's click on install. Now it says the installation was complete and I should restart my MetaTrader. So let's click on finish, file, exit and after you have restarted the MetaTrader, you should see the Expert Advisor here in the navigator view.
It's called MyFxBook. So let's drag this one on the chart. Yes, I really want to stop the current one and replace it with the MyFxBook expert advisor. You can simply open a new chart if you run Expert Advisors for all the currency pairs that you need.
Please click on depencies and see if those entries here exist. Afterwards please click on inputs. Type in your credentials for your free MyFxBook account. I will now use the wrong password and click on OK, and that will cause that the Expert Advisor is right away removed from the chart. So this is a mistake.
Now you see we have never published anything.
Actually, auto trading is disabled here. That is another common mistake. So let's enable that and try it again. This is still the wrong password. Now I click on okay, and it once again was removed.
Now let's click on view, terminal, journal and you will actually see the entry here. Experthas MyFxBook been removed, this is one of the traps that you need to know. Another one is you need to click on tools, options and allow DLL imports on the Expert Advisors tab here. So let's do that.
Click on Okay, drag the Expert Advisor on the chart. And this time it says the statement was uploaded successfully. So now everything works as expected and in this little video you have learned how to install and troubleshoot the MyFxBook Expert Advisor for MetaTrader4 and you have done it yourself within a few minutes.