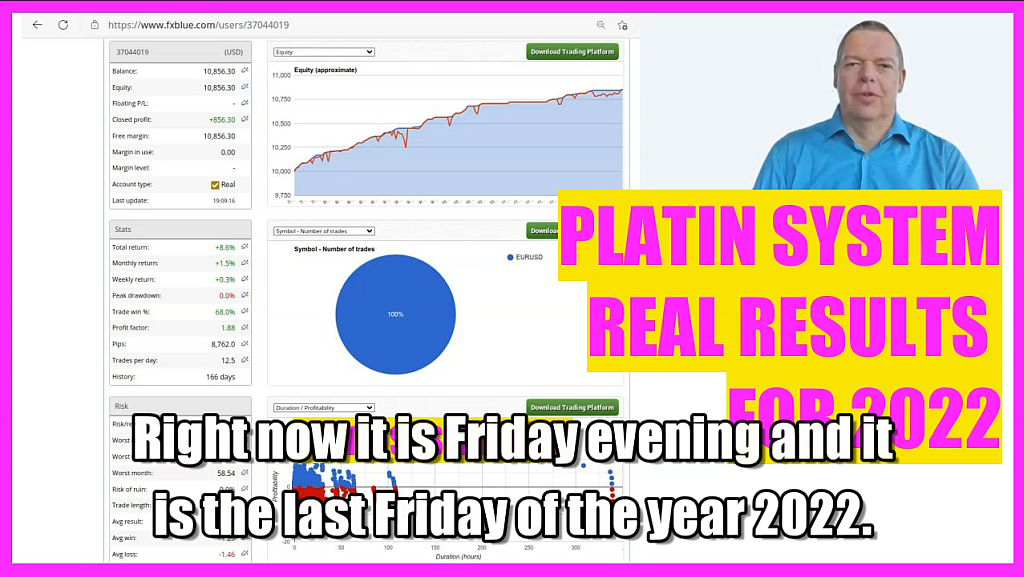 REAL RESULTS FOR 2022: https://www.fxblue.com/users/37044019
Right now it is Friday evening and it is the last Friday of the year 2022.
I have just adjusted my Platin System Live Trading accounts to not open any further positions after the current one, because I wanted to show you real results and statistics.
If you visit the Website fxblue.com for the account number 37044019, you will see that the current balance for this account is $10856. The current equity is also $10856.
That means that Equity and Balance are equal and there are no open losses.
The account was traded for 166 days in a row and the return of investment is 8.56 percent, because the initial investment was $10000.
That means that the annual return would be 8.56 percent divided through 166 days and multiplied by 365 days, so the yearly return would be 18.82 percent.
Well I have just googled the results for the best and most known trader in the world which is Warren Buffet.
I have opened Google and I have used the search term "Warren Buffett average annual return".
According to the most optimistic Google results Warren Buffett has made 29.5 percent a year, even in good times.
Please do your own research and make your own conclusions.
But Warren Buffet has over 60 years of experience, one of the biggest companies in the world and can pay for the best technology and advice in the world with a fraction of the change money that is available.
Most of us do not have this ability.
We have to achieve our own results with the resources that are available to us.
We are not the owners of Berkshire Hathaway.
We don't have business partners and friends like Bill Gates.
We are not able to spend a few hundred thousand dollars for the best technology and the best advice in the world.
But we have the ability to use automated trading systems and achieve results on our own.
Even in a pandemic situation.
Even in a recession.
Even in times where war is breaking out in several areas.
So, at the end of the year 2022, I would like you to check those results and make your own conclusions.
I think nothing can replace self-made insights, because nobody needs to convince you of your own conclusions.
Personally, I have done this and I have seen hundreds and hundreds of course members since 2014 doing this.
I am convinced that it is possible to achieve good results with automated trading systems, because I have done it and I have seen other people do it.
But I am also convinced that it is not possible for everybody.
You need to be able to do what it takes and that includes to endure bad emotions and resist the temptation to manipulate your own system to feel better.
Some people can do that, others can't.
But it is possible to train to get better and only 2 out of 10 people are willing to really do what it takes.
At the end of the day, or in this case, at the end of the year it is your own choice.
It is possible to do it, you can check the results.
It is probable to do it if you can stick to the rules.
But if you can do it, that is a question of if you are willing to invest the time, effort and money it takes to become the person in front of the screen that can actually do it.
This is the key to better or worse results and you are the one who can prove that you have what it takes to make it possible for you.