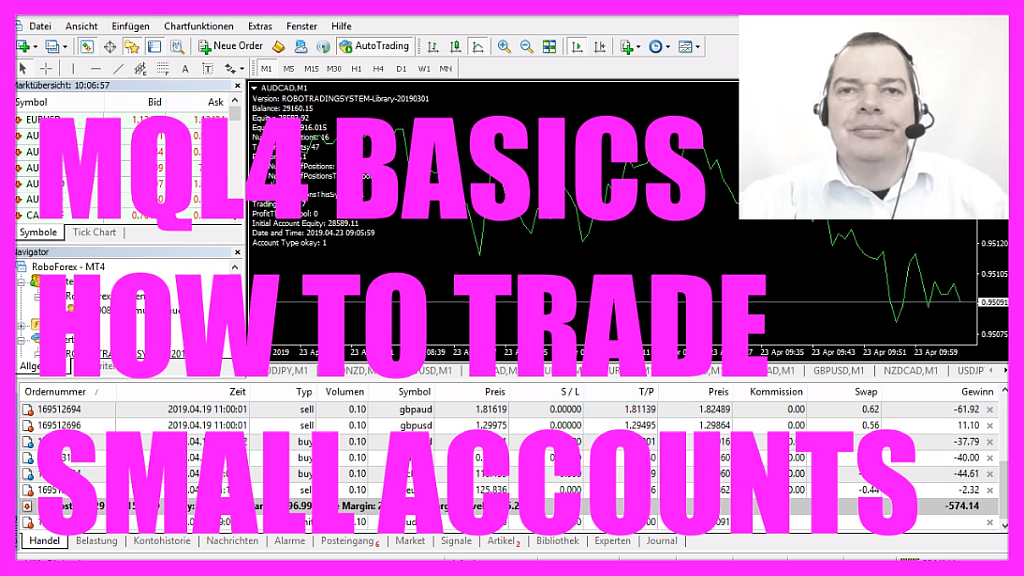 In this video we want to talk about a way to trade small accounts without being stopped out, this one is a real account, you see it's colored yellow, demo accounts are marked in a green color usually and this one says it has a balance of 29,160 Dollars and 15 cents, and it's a so-called "ProCent" account, you can see that here.
This is the website from RoboForex, one of the brokers I use, when I decide to open a new trading account I can pick either Metatrader 4 or Metatrader 5, in this case I will use Metatrader 4 and when I select an account type you will see that there is something that is called "MT 4 Pro-Cent", so let's pick that one.
I can choose if I want to use US Dollar or Euros. For the leverage I can go up to 1 to 2,000, usually I use 1 to 500, let's insert a password and I also want to provide an investor password because this is what we are going to use later on in our statistics. I don't need an affiliate code so now I could click on "Confirm" and the next step would be to make a deposit.
Here are several ways to transfer money, I have already done that, this is my account, it says: "US Dollar cents", leverage is 1 to 500 and the balance here is 29,160.15 US Dollar cents and that's actually what we see here.
So in a cent account you can do something like this, I have made a deposit of 300 Dollars for an MQL5 account and that would become 30,000 US Dollar cents in your cent account.
This broker also makes it possible to do internal transfers, I did that for two of my accounts, split at the equity to open two new accounts, make sure that you read the "terms and conditions" when you open a new account because if you take any bonuses that can become a problem when you do a withdrawal later on, so this is my statistics on FX Blue, here is the current balance: 29,160.15 US Dollars, the account was opened on April the 9th 2019, this is how the account performed so far and now you have all these statistics here, the gross profit is 989 Dollars today, so with a cent account you will pay real fees, you will make real profits.
I found a few websites like this one that lists brokers who provide cent accounts, this is the one that I have used in this example and you might be able to find a solution for your country because in this little video you have learned how to trade small accounts without being stopped out by using a cent account and now you know how to open your own cent account and trade dozens of positions on all these charts here and once everything works as desired it is no problem to scale up your account size.